AI generated content
This content is generated by an AI and does not reflect the opinions or views of individuals, either living or deceased.
| | |
| --- | --- |
| Text generated by | ChatGPT (GPT-4) |
| Text prompt | Write a blog post about work-life-balance and how to stop yourself from working during the Easter holidays, even if you normally work from home. |
| Image generated by | Midjourney |
| Image prompt | A woman trying to work from home, sitting at the kitchen table with a laptop while children are running around with easter eggs |
Achieving Work-Life Balance During Easter Holidays: A Guide for Remote Workers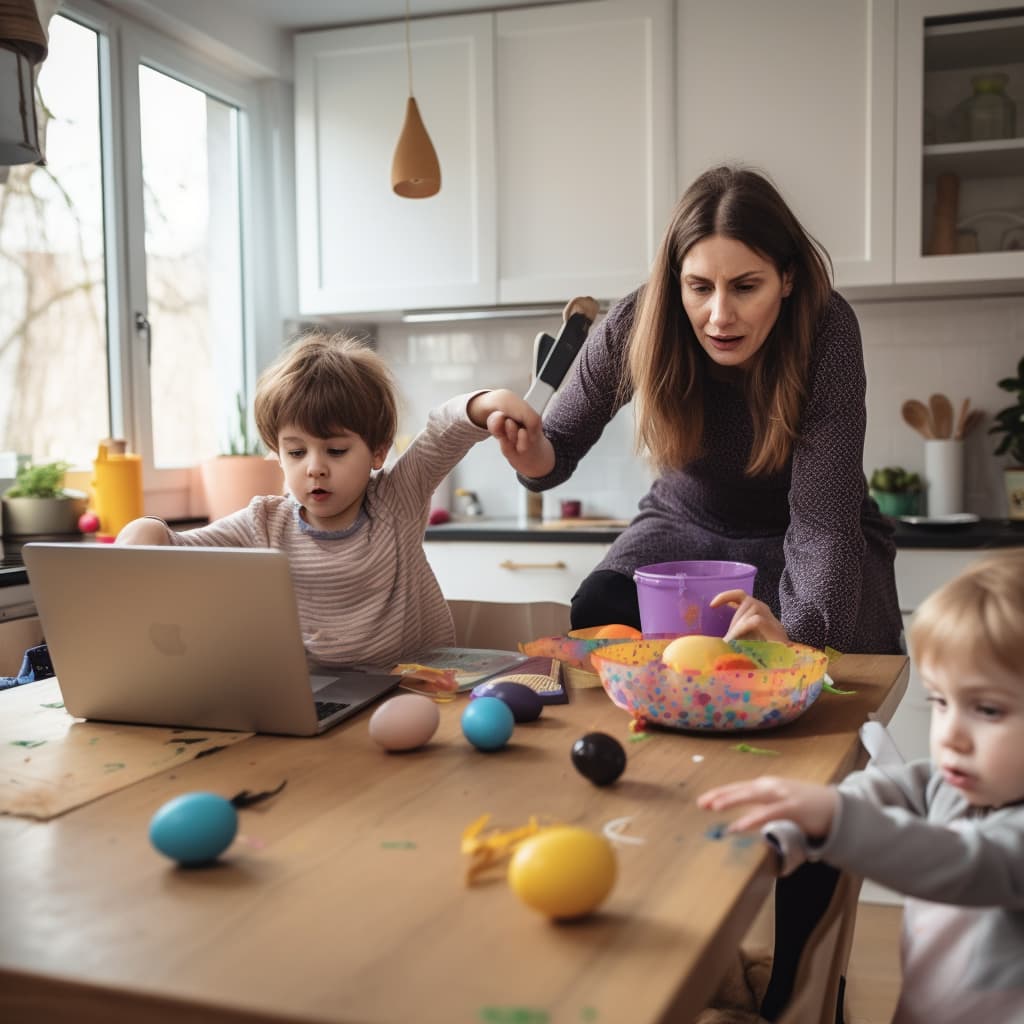 As a remote worker, it's easy to fall into the trap of constantly working, even during holidays like Easter. The lines between work and personal life can become blurred, making it harder to achieve a healthy work-life balance. In this blog post, we'll discuss the importance of maintaining a work-life balance during the Easter holidays and share practical tips to help you unplug from work and enjoy quality time with family and friends.
Understand the Importance of Work-Life Balance
Work-life balance is essential for maintaining your overall well-being, preventing burnout, and nurturing your personal relationships. Taking breaks from work, especially during holidays like Easter, helps you recharge your batteries, reduces stress, and promotes creativity and productivity in the long run.
Set Clear Boundaries
To achieve a healthy work-life balance during the Easter holidays, you need to set clear boundaries between your work and personal life. Here are some tips to help you establish these boundaries:
Communicate with your team: Inform your colleagues and supervisors about your plans for the Easter holidays and let them know that you'll be unavailable for work during this time.

Set an out-of-office message: Create an automatic out-of-office email response to let clients and coworkers know that you're taking time off and when you'll be available again.

Stick to your schedule: If you've planned to take time off during the Easter holidays, resist the temptation to check your email or complete work tasks. Remember that you deserve this break, and it's essential for your mental health.
Create a Holiday Routine
Establishing a routine during the Easter holidays will help you mentally separate from work and focus on enjoying your time off. Some suggestions for your holiday routine might include:
Start your day with a relaxing activity, such as yoga, meditation, or a leisurely walk.

Engage in activities that you enjoy but often don't have time for, such as reading, painting, or cooking.

Plan special activities with your family or friends, such as an Easter egg hunt, a picnic, or a movie night.
Unplug from Technology
One of the most effective ways to disconnect from work during the Easter holidays is to unplug from technology. Here's how you can do it:
Set boundaries for device usage: Designate specific times during the day when you'll allow yourself to use your phone, tablet, or computer for non-work-related activities.

Turn off notifications: Disable work-related notifications on your devices to avoid being constantly reminded of work.

Create tech-free zones: Designate certain areas in your home as tech-free zones, where you can spend time with your family or engage in other activities without distractions.
Reflect on Your Work-Life Balance
The Easter holidays can also serve as an opportunity to reflect on your work-life balance and make necessary adjustments for the future. Consider the following:
Assess your current work-life balance: Identify areas where you struggle to maintain a healthy balance and brainstorm ways to improve them.

Set realistic goals: Establish achievable goals for the future that promote a better work-life balance, such as delegating tasks, setting clear boundaries, or taking regular breaks.

Make a commitment: Make a promise to yourself to prioritize your well-being and work-life balance moving forward.
Achieving a healthy work-life balance during the Easter holidays is essential for your overall well-being and productivity. By setting clear boundaries, creating a holiday routine, unplugging from technology, and reflecting on your work-life balance, you can make the most of your time off and return to work feeling refreshed and rejuvenated. Remember, taking breaks is not a luxury—it's a necessity for a healthy and fulfilling life.