AI generated content
This content is generated by an AI and does not reflect the opinions or views of individuals, either living or deceased.
| | |
| --- | --- |
| Text generated by | ChatGPT (GPT-4) |
| Text prompt | Write a blog post about how the plan an ergonomic home office. |
| Image generated by | Midjourney |
| Image prompt | An ergonomic home office |
Planning Your Perfect Ergonomic Home Office: A Comprehensive Guide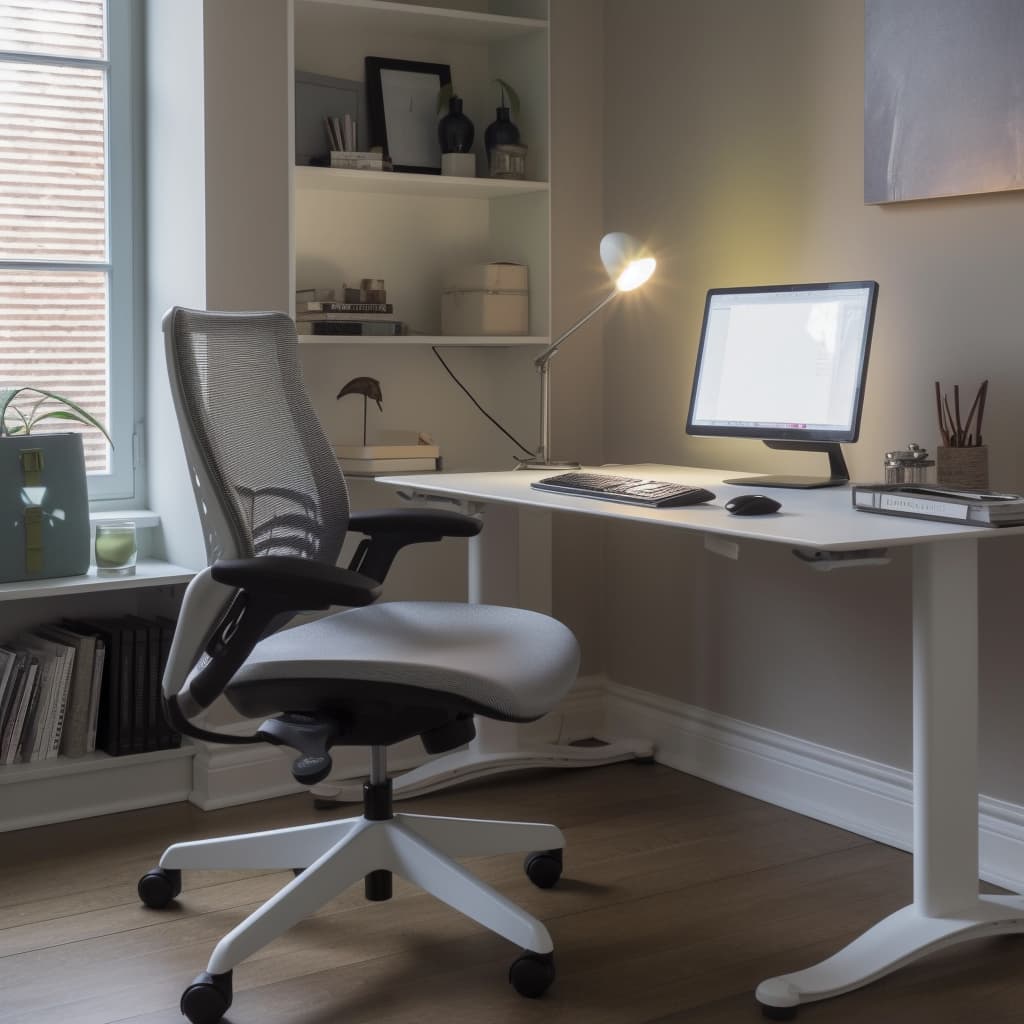 The modern workforce has seen a significant shift towards remote work, and with that comes the need for a comfortable and productive home office environment. Creating an ergonomic home office not only improves your work efficiency but also helps prevent health issues such as back pain, neck strain, and carpal tunnel syndrome. In this blog post, we'll walk you through the essential steps for planning your perfect ergonomic home office.
Assess Your Workspace Needs
Before diving into the world of ergonomic furniture and accessories, take a moment to assess your needs. Consider the type of work you do, the amount of time you spend at your desk, and your personal preferences. Make a list of the essential items you'll need in your office, such as a computer, printer, phone, and storage solutions. This will help you identify the right ergonomic solutions for your specific needs.
Choose the Right Desk
Your desk is the foundation of your home office, and selecting the right one is crucial for your ergonomic setup. Here are a few factors to consider:
Adjustable height: A standing desk or a desk with adjustable height features allows you to switch between sitting and standing throughout the day, reducing strain on your back and legs.

Surface area: Make sure your desk has enough space for your computer, keyboard, and any other essential items, as well as enough room to move around comfortably.

Shape: Depending on your preferences, you may want to consider an L-shaped or U-shaped desk to maximize space and provide easy access to your equipment.
Invest in a Quality Chair
A high-quality ergonomic chair can make a world of difference in your comfort and productivity. Look for chairs with the following features:
Adjustable height: Ensure that your chair allows you to sit with your feet flat on the floor and your knees bent at a 90-degree angle.

Lumbar support: A chair with proper lower back support can help prevent back pain and strain.

Adjustable armrests: Choose a chair with armrests that can be adjusted to support your arms while typing, preventing shoulder and neck strain.
Position Your Monitor Correctly
The placement of your computer monitor plays a significant role in maintaining proper posture and reducing eye strain. Follow these guidelines for optimal monitor positioning:
Height: Position the top of your screen at or slightly below eye level to maintain a neutral neck posture.

Distance: Your monitor should be about an arm's length away from you to reduce eye strain.

Angle: Tilt the screen slightly upward (10 to 20 degrees) to ensure that you're looking down at your screen at a comfortable angle.
Optimize Your Keyboard and Mouse Placement
Proper keyboard and mouse placement is essential for preventing carpal tunnel syndrome and other repetitive strain injuries. Keep these tips in mind:
Height: Your keyboard and mouse should be at a height that allows you to maintain a 90-degree angle at your elbows while typing.

Position: Keep your keyboard and mouse close to your body to minimize reaching and strain on your shoulders and arms.

Wrist support: Consider using a wrist rest to maintain a neutral wrist position while typing.
Prioritize Good Lighting
Poor lighting can lead to eye strain and headaches. To create an ergonomically-friendly lighting setup, consider these tips:
Natural light: If possible, position your desk near a window to take advantage of natural light.

Task lighting: Supplement natural light with adjustable task lights to reduce glare and shadows.

Minimize glare: Position your monitor perpendicular to windows or light sources to minimize glare on your screen.
Conclusion
Creating an ergonomic home office may require an initial investment, but the benefits to your health and productivity are well worth it. By carefully planning and selecting